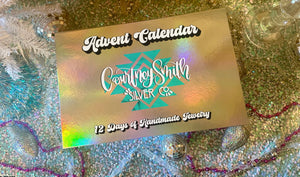 Elevate the excitement surrounding the holiday season with this year's exclusive 2023 advent calendar. Filled with 12 pieces of quality, handmade jewelry, you will have a beautiful gift to open up for twelve days leading up to Christmas. 
Included in the advent calendar are a combination of essential pieces for your jewelry collection as well as some items exclusive to this advent calendar. 
* Total value of the handmade jewelry included in the advent calendar is over $800. *
Please include ring size, wrist size and necklace length (16", 18", 20", 24") in the notes to seller section. If you are unsure of these sizes, you can let me know in the notes section, and I can help you figure out the sizing. If you are purchasing for a gift, and would like to discreetly figure out the sizing, I have a jewelry preferences survey on my homepage that you could send to your loved one. 
All advent calendars will ship on November 27, if choosing local pick up, the calendars will be available for pick up on that day as well. If you are local to the Ada area and would like to pick up locally, you can use code LOCASHIP to remove the shipping cost. Please note that if you are not local to the Ada area, and unable to pick up, you will be invoiced separately for shipping. 
Advent calendars are final sale, non refundable. No returns or exchanges. 
Payment plans available at checkout. 
While part of the fun of the advent calendars is being surprised each day by what you open, I've included some examples below of what you can expect. I assure you, the value is well over $800 in jewelry and you will not be disappointed.
-Every Day Wear Pieces
-Stacking Jewelry to accent other pieces you may already own, or can be worn alone
-Interchangable jewelry pieces that can be mixed and matched with other items in the box
-A new twist on one of my best selling, hard to find pieces 
-Two higher value statement pieces, customized to the receivers preference by Courtney 
-Two exclusive jewelry items that can not be purchased outside of  the Advent Calendar
Stone and personal style preference is taken into account for the few customized pieces in the box, so it's highly recommended to have the receiver submit their jewelry preferences survey on the website, or include that information with sizing in the notes to seller at checkout.